If Henry Morrison Flagler hadn't found his way here in the 19th Century, building hotels, extending his railway , and plotting out West Palm Beach for his workers, who knows if Palm Beach would be the enclave of wealth and cachet that it remains today.
Today, that history can still be found everywhere you turn in Palm Beach, from Flagler's impressive mansion and hotels to the many other homes built by Addison Mizner and others as well as the traditions, clubs, and even the plants found throughout both the island and West Palm Beach. The historic town of Palm Beach has a landmarks preservation commission with an impressive list of
landmarked properties
. The city of West Palm Beach has its own historic preservation program and its own 18 historic districts.
Buying a Historic Home

Preserving that history is vital to maintaining the charm of Palm Beach. And being a part of that history is often a prime motivator to those who settle here.
Purchasing a historic luxury home in Palm Beach or West Palm Beach can be a great way to immerse yourself in all Palm Beach has to offer, but it can also come with limitations and headaches. A landmarked property doesn't prohibit redevelopment. It's actually far
less limiting
than you might think.

But you need to know what to be prepared for and what to avoid when buying a historic home in Palm Beach or West Palm Beach. And that's why you need a guide like Palm Beach real estate agent Samantha Curry. Samantha lives in her own historic home in West Palm Beach so together with her years of experience on the island, she'll have plenty of advice to help you steer through to a historic home you'll love just as much as those who have come before you.

Before diving into the unique challenge of the historic home buying process, here's what you need to know as a buyer entering the local real estate market.
Photo courtesy of Samantha Curry
What is a historic home?

A historic home is a property determined to be historic through the National Register of Historic Places. Typically, these homes are a minimum of 50 years old and meet specific criteria. They are either connected to significant people or historic events, embody the design of a notable architect or historic style, or have provided historical information.

Homes that aren't historic can benefit from the designation's protections if the property is within a historic district. Historic districts can be designated locally, federally, or on the state level, and those living within the district must preserve the area. This means that restrictions for changes to a property's exterior are much stricter than under a regular HOA when buying a historic home in Palm Beach.
Palm Beach's history
Currently, there are
328
protected landmark properties, vistas, and sites under the Historic Preservation Ordinance of Palm Beach. Areas like Worth Avenue are a great place to admire some of the historical architecture within the town, featuring Mediterranean-Revival and Neoclassical styles that are mimicked by the more modern constructions in the area. Other areas and landmarks like Phipps Plaza, Royal Parks Bridge, and Regents Park are part of the National Register of Historic Places.

Palm Beach history itself was settled in 1872 and was originally known as Lake Worth. The historic sites today, like the Coconut Grove House and the Royal Poinciana Hotel, were created from the town's growing population and popularity as a vacation destination and winter residence. Palm Beach was officially incorporated in 1911 and blossomed into the desirable location it is today.
Pros of buying historic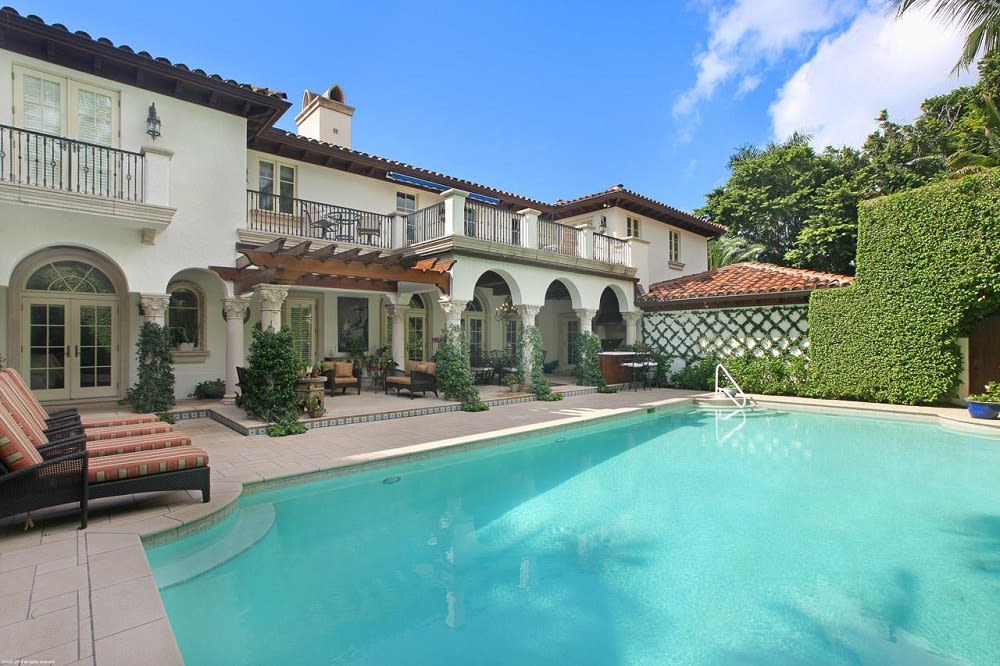 Photo courtesy of Samantha Curry

There are several pros that make historic Palm Beach luxury real estate eagerly sought-after and exclusive. Many people are drawn to buying historic homes in Palm Beach for their historical significance and are interested in connecting with or admiring the architectural design and story the property preserves. Historic homes can be extremely gratifying emotional investments that connect homeowners to a larger community interested in preserving the past.

Additionally, well-preserved historic homes are usually worth more than newer constructions of comparable size or build. This is partly due to their uniqueness, and their value can be impacted by the desirability of the surrounding location and any improvements in the area. Although an owner of a historic home in Palm Beach can expect repairs and renovations to maintain the property's structure and appearance, financing is available through the State Historic Preservation Office and the Historic Tax Credit.
Cons of buying historic

There are a few more challenges to buying historic Palm Beach luxury homes than with buying a newer property. A major factor to consider when buying a historic home in Palm Beach is the repairs and renovations a homeowner is responsible for in upkeeping the home's original character. Historic homes are regulated by specific guidelines for the interior and exterior that a homeowner must abide by, which can take extra time and expenses. As with any older property, Palm Beach historic homes will likely have more issues in general that arise, which can be tedious or detrimental to owners not prepared for the task.

Additionally, these strict guidelines mean that owners of historic homes can't renovate the property in ways that appeal to personal tastes. Changing the interior to an open floor plan, or adding floor-to-ceiling windows, are out of the question. Buyers of historic homes should already love what the home has to offer and feel a dedication to maintaining what exists.
Tips for buying

When buying a historic home in Palm Beach luxury real estate, there are several tips for buying to keep in mind. Searching for historic properties may be difficult, given their exclusivity, which is why many buyers work with local real estate agents. They'll have a deep knowledge of the properties available in the area, the amenities within the community, and connections to certain service providers specializing in historic properties.

If you're financing with a mortgage, research several different mortgage companies to find the best rate. Given the extra costs related to Palm Beach historic homes, it may be difficult to find a lender willing to insure your property. During this process, also double-check with your homeowner's insurance company to make sure they insure historic homes and determine if there are any price hikes with the property type.

After finding a property you love, order a historic home inspection. Checking for plumbing, electric, heating, and structural issues is important in clarifying the magnitude of the financial investment you're undertaking. After the inspection is complete, get estimates from historic contractors for how much restorations and repairs will cost, if any are necessary. This will help you prioritize your projects and come up with a plan about buying historic homes in Palm Beach.
Ready for a historic home? Trust an agent who knows.
Buyers
looking for historic homes in Palm Beach will love the Mediterranean and Neo-classical designs available in this oceanside town. Historic homes can be rewarding and emotional purchases, although they take extra time and care to maintain. When you're ready to start your search for historic Palm Beach real estate, contact expert local agent
Samantha Curry
to guide you through the process.
*Header photo courtesy of Shutterstock